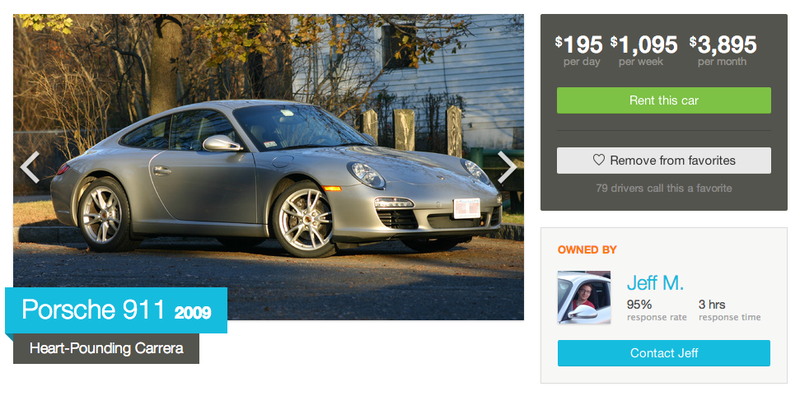 In almost 12 months of renting my Porsche 911 on RelayRides—where I'm proud to say I've grossed just shy of $2,000—I've encountered a popular request. It usually looks like this:
I'd love to rent your car for my ______. He/She loves cars and it's been a dream of him/her to drive one. How can I do that?
These kind of rental requests are awesome, because I think it's quite a bit easier to spend almost 200-impractical-dollars for someone else than it is for yourself. Dropping this kind of money for yourself can seem pretty-self-indulgent. But when someone else spends the money for you, it changes your whole value-perspective on the thing.
This probably explains why about half of the requests I receive are rental requests where someone else would be the driver.
A great thought; totally impractical
Problem is, those gift requests almost never pan out. And it's not because the gifter wasn't willing.
For me, of the roughly 12 gift rental inquiries I've received, only 1 of those requests has actually ended up with a completed reservation—and that was for a wedding! Motivated renter, for sure.
My response to the potential renter (gifter) usually looks something like this:
Hi [name]!

Thanks for your interest in the 911. You're such a thoughtful [husband, wife, daughter, etc]—it's a fantastic car that I'm sure [recipient] would love to drive. For them to drive the car they would need to go through the driver check. RelayRides has a writeup explaining the details: [link here]

—Jeff
Then comes silence
So this was essentially a gentle way to letting the gifter know that their idea is great but it's not going to happen very easily on the RelayRides platform.
In a nutshell:
Every driver of a RelayRides rental car must go through a driver check before they are authorized to drive. The rental would be impossible to use if the driver failed the check (e.g. if they received a speeding ticket 20+ mph over the speed limit at any time in their lifetime).
Thus, in the real world, here is how that gift idea would go:
Gifter: Hey, honey—I want to rent you this Porsche for your birthday. I just need some help from you to do it...

Recipient: Oh, gee, thanks! You certainly didn't have to... that's so generous! What do you need from me?

Gifter: I need you to sign up for an account on this website, put in all your license info, have them run a driver check, wait for your eligibility determination.... then if that's all clear then I'll buy the rental for you, once we can figure out exactly when you want to drive it. It's not always fully refundable so it's best if you don't change your mind. Oh and it's probably easier if you sign up for the rental with your account, since you'd be responsible for any accident damages.... wouldn't want the liability on my own credit card.

Recipient: Wow! That sounds like a major pain. You know, it was the thought that counted—I appreciate you thinking of me. Let's skip the rental and just go get some ice cream.

Gifter: You're right. What a pain. Let me just cancel this request. Maybe I'll just give you some cash instead.
Poof! No rental for me. No amazing Porsche driving experience for the recipient. It kind of spoils the gift if the recipient has to be intimately involved with the procurement of said gift before it is actually unveiled.
About the author
Jeff McNeil is a user interface / experience designer and entrepreneur. He's founder of New Spin Digital — a digital product design and development consultancy in Newton, MA.